​Want to Create an Awesome ​Social Media ​Post?
Aug 22,2018 | Jeff Jensen
Want to Create an Awesome Social Media Post? This is a two-step process with details about each step that you need to follow.
Step I is creating the post and Step II is adding hashtags, calls to action, links back to your Facebook page or website, photos and video content, etc.
Your posts should inform, entertain and drive an engaging discussion from your followers.
For creating a post you want to inform your audience by educating them about what's happening with your industry, company, or content about people using your product or service.
People love to see things about your products and services, but don't want to only see that all the time.
Entertaining your followers use a mixture of branded content, giveaways, industry quotes, charitable work, recipes and pairings, etc. People want to see what you are doing and why they should care about you, they just also want to see other things.
Facebook GiveAways
One of our wine clients gave away country music festival tickets, which got a lot of traction from potential and current customers.
It also, helped with posts after the post because engagement was up from people being excited about the free giveaway.
We noticed a large difference between 2017's results of organically reaching close to 22,000 people in just under 48 hours and 2018's results of organically reaching close to 10,000.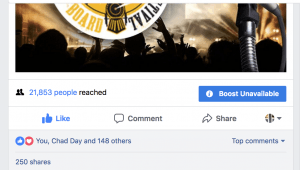 Facebook also hampered our giveaway for a cannabis client going from near 6,000 people reached in 48 hours to less than 2,000. That was between the post that talked about a giveaway and the actual giveaway.
People love pictures of snow days at the office, multi-day events and conferences, employee post, etc. Engagement happens through comments, likes, and shares.
Facebook is putting more weight on people commenting and sharing in a post than in the number of likes.
Facebook Post Split Testing
We made two posts with an image with the phrase, "I'm Not Having A Glass of Wine I'm Having Six It's Called a "Tasting" And It's Classy", we added a phrase of text above the image.
Post number one that just had the words in a low resolution graphic, reached hundreds of people but got only 4 likes and a few comments.
"Come see us for your wine tasting needs!"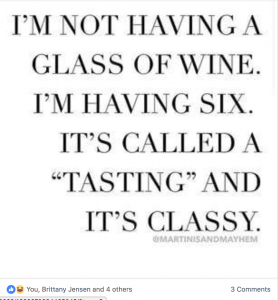 Post number two with a higher resolution graphic and I nice background got over 8,000 in reach, 81 shares, 27 likes and more comments.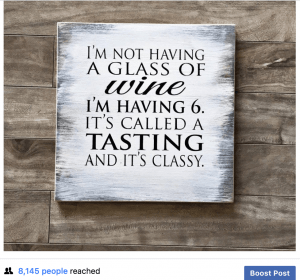 The image and sentence are the only differences between the two posts. You will learn what works best for your audience–and we can help too.
These are the top things to consider for every post.
Have a call to action
Add hashtags
Link back to your website
Add products when relevant
Use photos or video to increase engagement
Wondering what a call to action is? This is the part of your post that tells the reader what you want them to do. Comment, share, go to a blog post, like your page, etc.
One article that could help is Facebook Business Manager so check out our article on the pros here.