3 Steps to Increasing Sales On Your Wine Website
Aug 05,2019 | Jeff Jensen
3 Steps to Increasing Sales On Your Wine Website
Install Heatmap/video monitoring of your website
Implement a call to action on the site
Split test the content and call to action
Install Heatmap/video monitoring of your website
In the website development industry many web developers will not review their work or test it to see how customers are interacting with it.
This is because it takes time, assumes that the design selected is not the best one, requires a trial period with a design.
This means that as soon as the site is completed it will be changed in the next 30 – 90 days.
This tactic is the best for a customer because it improves the number of shoppers getting to the shopping page or wine club signup page.
Both of those will increase number of sales that you see and help with figuring out how to optimize your pages.
For heatmap and video monitoring we recommend utilizing hotjar.
Hotjar was the first company recommended to me offering a free trial for this service.
The benefit you will receive will vary based on your website's design, but here is an example of a winery that upon implementing saw fantastic results.
Within a month of a new website being launched we implemented hotjar and watched as customers aimlessly looked around the website trying to find the shopping page.
The homepage had fabulous content about the history of the winery, but users coming to the site were only interested in shopping and events.
The homepage was redesigned with shopping and events in two places. No content that could be seen as competing with driving people to the pages they wanted.
This increased the number of people getting to those pages by 200%.
Additionally, the bounce rate was reduced, length that someone stayed on the page increased, and sales went up.
In the second step you will implement a call to action and we utilize hubspot. Hubspot is a service that that drives leads to simple form with a call to action.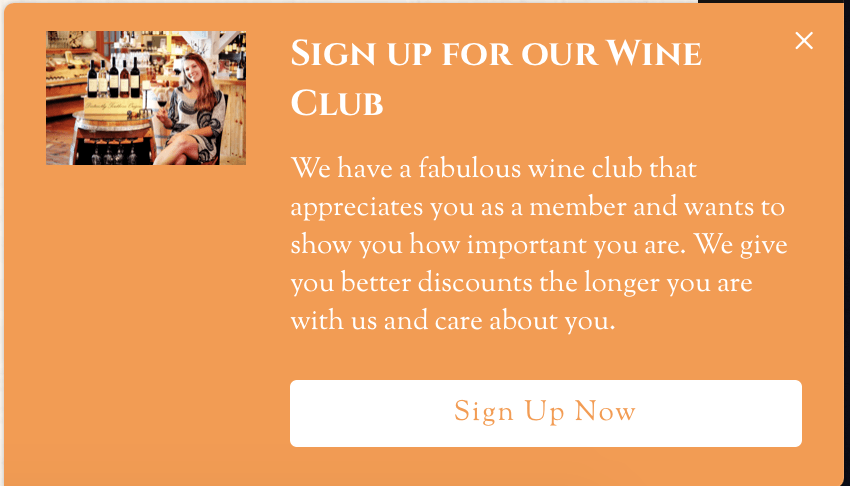 For those of you unfamiliar with split testing it is a process to test if the content and design that you are using isthe optimal one.
Everything from your emails to your website has the ability to be split tested and you should be doing so to improve your results every 30 – 90 days.
Depending on the amount of traffic that you are receiving split testing will take weeks to months.
The larger the incoming traffic the more you will learn about what changes will improve the retention on your site.
This is how you improve your conversions on your website to make more sales.