Gozo.io's Facebook strategy for ICO Marketing
Aug 26,2018 | Jeff Jensen
Gozo.io's Facebook strategy for ICO Marketing, includes posting about events that they are promoting on other platforms.
Posting is still occurring once a week on Facebook, which may be due to Facebook not being as beneficial as other platforms.
We need to ask Ziad, what they are seeing for reach on the backend. ICO's are still being banned from being allowed to run ads.
A Facebook ad strategy for growth is commonly used to raise awareness and grow a following with less posts.
September is when Gozo went into gear all of these previous posts are much higher.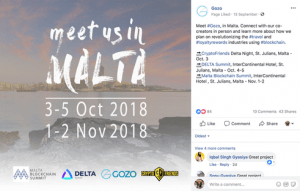 Looking at the single biggest event that drove ton's of new followers as well are registered users. Gozo.io did their air drop meaning that they gave away free coin for users signing up, buying some level of coins in Gozo, etc.

To buy coins in an ICO you need coin in other platforms like Bitcoin, Ethrium, etc.
This is a post about the company starting their private sale offering. This didn't get a lot of likes. The post is meant to keep visibility on Facebook be looking.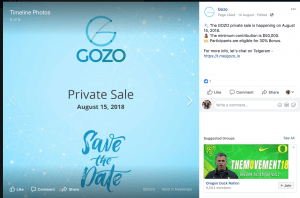 This post is about an interview that was done with Angela Scott Briggs from Tech Bullion. I would have thought that this interview would gain more traction since TechBullion is news about Fintech.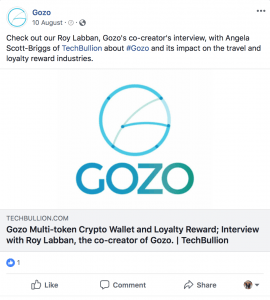 This post announces the company going on a roadshow that Gozo is going on to raise awareness, find people interested in investing, potential team members, and partners at an event in New York City.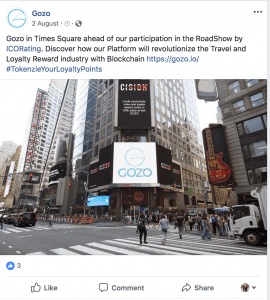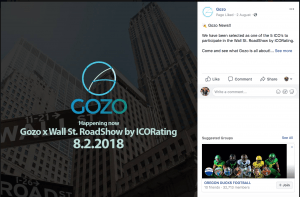 This is the initial post about Gozo.io so we don't expect to see a lot of traction especially if they didn't have a good following in advance.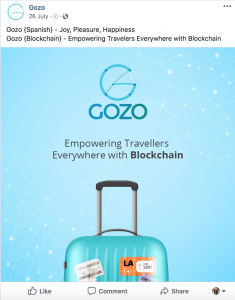 To look at the analysis of the article on the following social media click the respective links, LinkedIn, Overview,
With the decline in Crypto investing by Q4 of 2019 Gozo.io did not raise the money they needed to complete the platform yet. Once they do we will update this.
The strategy that they used to airdrop coins for sharing worked tremendously well. The company over 10,000 users signed up in less than a month.