Picking the Right SEO Company or Reseller
Aug 27,2018 | Jeff Jensen
Picking the Right SEO Company or Reseller is tough and can go so wrong. This is because it's complicated and so many things can go wrong. In the most recent count of Google's ranking factors by Backlinko there were over 200!
One potential client told me that they spent $35,000 only to lose traffic, ranking, and money that they were making. Another client told me that they put upfront $20,000 and then spent $400 a month for 2 and a half years only to see no growth.
On a recent conversation with Chad Hill the CEO of Hubshout he mentioned how much they care about growing traffic for their clients and how important picking the right company can be. Not every campaign works as well as we hope and sometimes we need to boost the campaign and add additional drivers to garner the traffic that increase sales.
Making strategic decisions based on what you are seeing in the market both locally and nationally is crucial to what avenues a company should explore. We are starting a 90 day analysis of several new SEO clients to determine how our hub shout partner and other online marketing tactics work best together to grow a website.
SAMPLE CAMPAIGNS
We have seen with Dentalstaffing.org fantastic results in both organic and paid traffic. We started in May mid way through the month, then published some new articles in June and grew things further with adding email marketing.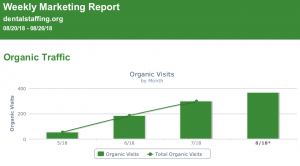 As we move into September we are going to start social media marketing and boost the email marketing. I am excited to see how that increases organic traffic into September. I know that turning on ads in June helped grow our organic traffic.
We have another client who we just did SEO with and should have increased the packages size because it has not gone near as well. This month we are doing better, but as you can see June was a much better month.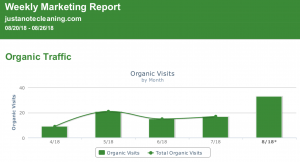 We will be updating these images and adding campaigns to show the progress.
Podcast: Play in new window | Download
Subscribe: Android | RSS